Klimatyzator do domu i mieszkania – jaki wybrać?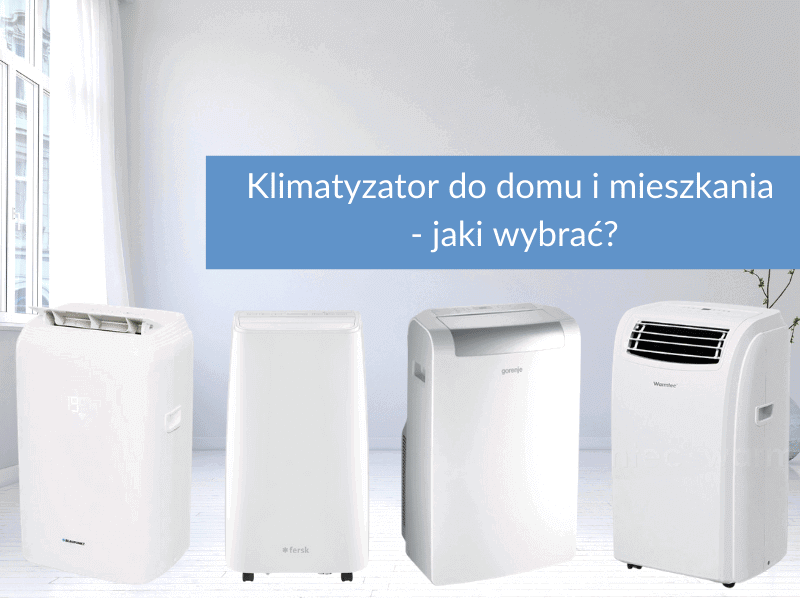 Wybór klimatyzatora powinien być poprzedzony odpowiedzią na pytanie – gdzie będziesz używać urządzenia chłodzącego?
Jeżeli mieszkasz w bloku z balkonem i uzyskasz zgodę na montaż od administratora, możesz zamontować klimatyzator stacjonarny typu split.
Jeśli z jakiegoś powodu nie możesz sobie na to pozwolić, bo np. wynajmujesz mieszkanie, najlepszym rozwiązaniem będzie dla Ciebie klimatyzator przenośny.
Właściciele domów jednorodzinnych mogą wybierać pomiędzy wszystkimi rodzajami klimatyzatorów – jedynym ograniczeniem jest tutaj budżet.
Sprawdź, jakie wady i zalety ma klimatyzator do domu i mieszkania oraz czym jeszcze kierować się, gdy wybierasz urządzenie chłodzące.
Spis treści:
1. Klimatyzator do domu – stacjonarny split
Jest to rodzaj klimatyzatora, który bardzo często można spotkać również w biurach i punktach usługowych, a jednostka wewnętrzna jest zazwyczaj zawieszona na ścianie pod sufitem.
Ten rodzaj klimatyzatora wymaga montażu jednostek wewnętrznej i zewnętrznej na stałe, a więc nie jest możliwe ich przemieszczanie.
Sposób działania klimatyzatora split opiera się na pracy:
parownika w jednostce wewnętrznej,
skraplacza, sprężarki i zaworu rozprężnego w jednostce zewnętrznej.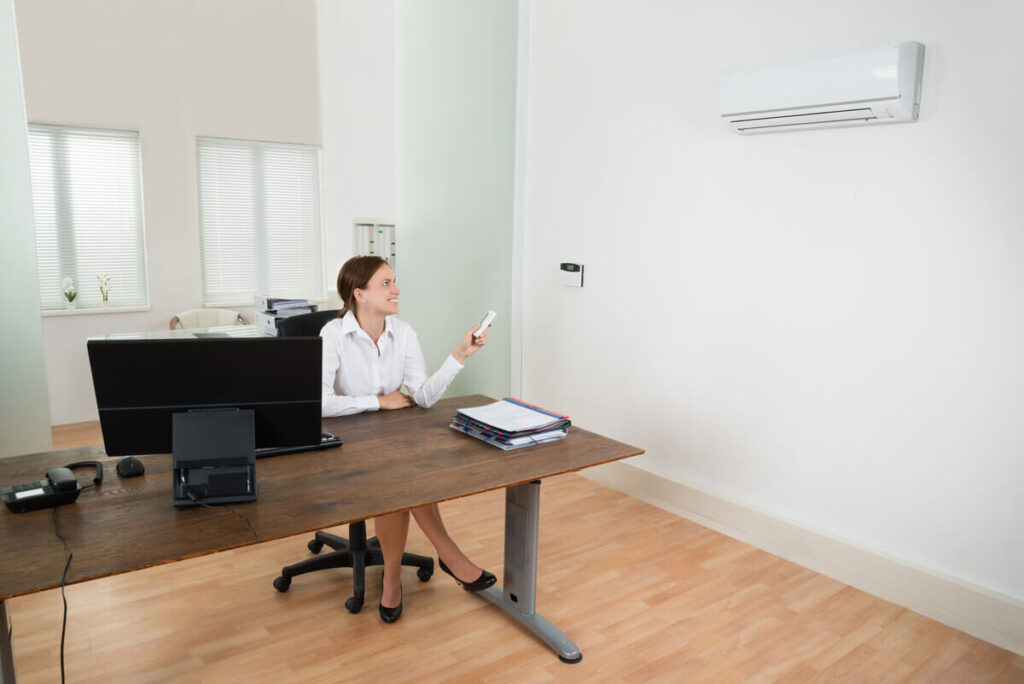 Elementy te są ze sobą połączone rurami, przez które przepływa czynnik chłodniczy, odpowiadający za wymianę ciepła, a więc ochładzanie powietrza w pomieszczeniu.
Popularnym rozwiązaniem jest również klimatyzator typu multisplit – do jednostki zewnętrznej podłączanych jest wtedy kilka jednostek wewnętrznych, by umożliwić chłodzenie kilku pomieszczeń jednocześnie.
Jest to oczywiście rozwiązanie droższe, a cena jest zależna od wybranej liczby jednostek.
1.1. Montaż klimatyzatorów split
Ze względu na specyfikę montażu obejmującą ingerencję w strukturę budynku, aby wykonać go na budynku wielorodzinnym – konieczne jest uzyskanie zgody administratora.
Aby uzyskać taką zgodę, klimatyzator musi spełniać kilka warunków, m.in. nie może przekraczać dopuszczalnych poziomów głośności. [1]
Z tego względu poleca się ten klimatyzator do domu wolnostojącego.
Jednostkę wewnętrzną w klimatyzatorze split/multisplit można zamontować nie tylko przy suficie. Inne możliwości to klimatyzator:
kasetonowy – do sufitów podwieszanych;
konsolowy – montowany na dole ściany;
kanałowy – wbudowany w strop;
przypodłogowy – umieszczany w rogu pomieszczenia lub we wnęce.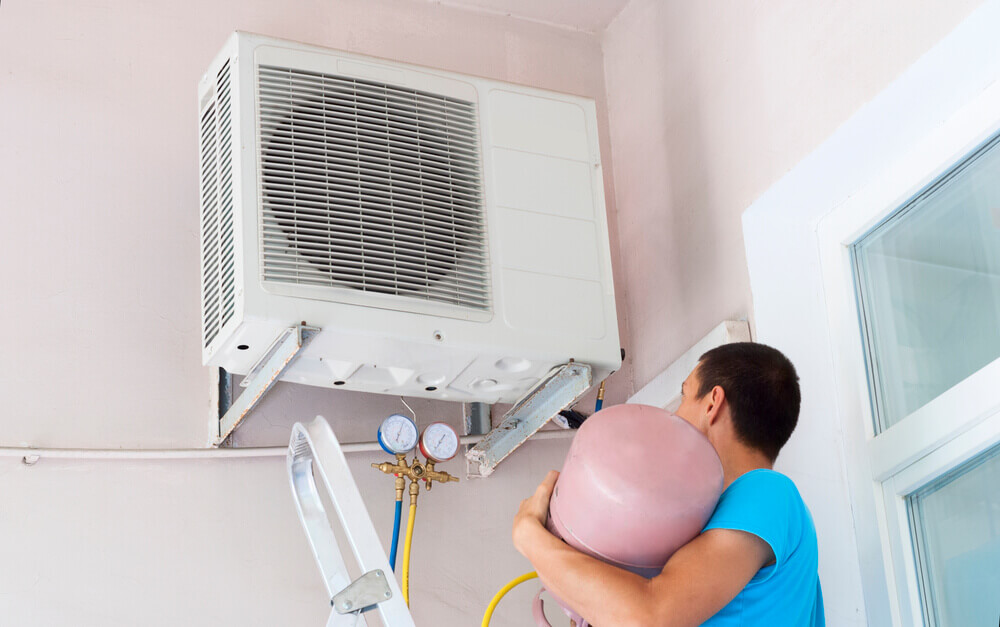 Jednostkę zewnętrzną montuje się zazwyczaj na zewnętrznej ścianie, rzadziej na dachu.
W pierwszym kroku należy określić, gdzie zostanie zamontowany klimatyzator, aby mógł równomierne rozprowadzać powietrze. To istotne również ze względu na serwisowanie, by osoba je przeprowadzająca miała swobodny dostęp do klimatyzatora.
Również odległość pomiędzy jednostką zewnętrzną i wewnętrzną powinny być możliwie najkrótsze.
Montaż klimatyzatora składa się z kilku etapów, dlatego najlepiej skorzystać z pomocy wykwalifikowanych specjalistów.
1.2 Klimatyzator split – zalety
Koszty eksploatacji mogą być na tyle niskie, byś mógł realnie oszczędzać, w porównaniu z innymi rodzajami urządzeń chłodzących.
Nowoczesne klimatyzatory do domu (klasa A++/A+++) posiadają energooszczędne silniki i wentylatory oraz wydajne sprężarki, co ma duży wpływ na obniżenie zużycia energii elektrycznej.
Budowa klimatyzatora typu split sprawia, że hałasuje on tylko na zewnątrz, podczas gdy odgłosy jednostki wewnętrznej nie są uciążliwe dla mieszkańców.
Na komfort istotnie wpływa również możliwość szybkiej zmiany temperatury, w zależności od aktualnych potrzeb.
Klimatyzator do domu powinien być na tyle estetyczny, by nie zaburzał wyglądu wnętrz.
Jednostka wewnętrzna klimatyzatora typu split może zostać tak dobrana do pomieszczenia, by nie rzucać się w oczy. Współczesne modele potrafią być wręcz ozdobą nowoczesnego domu.
1.3 Klimatyzator split – wady
Koszt klimatyzatora split jest częstym powodem rezygnacji z jej zakupu, ponieważ nie każdy może sobie pozwolić na tak duży jednorazowy wydatek. Cena wydajnego klimatyzatora do domu to ok. 3000 zł.
Jednak, jak to zostało wspomniane powyżej, niskie koszty eksploatacji przemawiają na korzyść tych urządzeń.
Hałasująca jednostka zewnętrzna
Hałas, jaki generuje jednostka zewnętrzna, może być przyczyną, dla której nie uzyskasz zgody zarządcy budynku na montaż klimatyzacji w bloku.
Dlatego też klimatyzator split jest polecany do domu jednorodzinnego.
2. Klimatyzator do mieszkania – przenośny
Podobnie jak klimatyzator stacjonarny typu split, klimatyzator przenośny również może mieć tę formę, w której skraplacz i parownik stanowią oddzielne jednostki połączone ze sobą rurką.
Jest to również urządzenie przeznaczone raczej do domów wolnostojących, ze względu na emitowany przez jednostkę zewnętrzną hałas.
Rozwiązaniem właściwie dla każdego jest natomiast klimatyzator przenośny w formie monobloku. Składa się on z dokładnie tych samych elementów co klimatyzator split, z tą różnicą, że przenośny klimatyzator do mieszkania nie dzieli się na dwie osobne jednostki.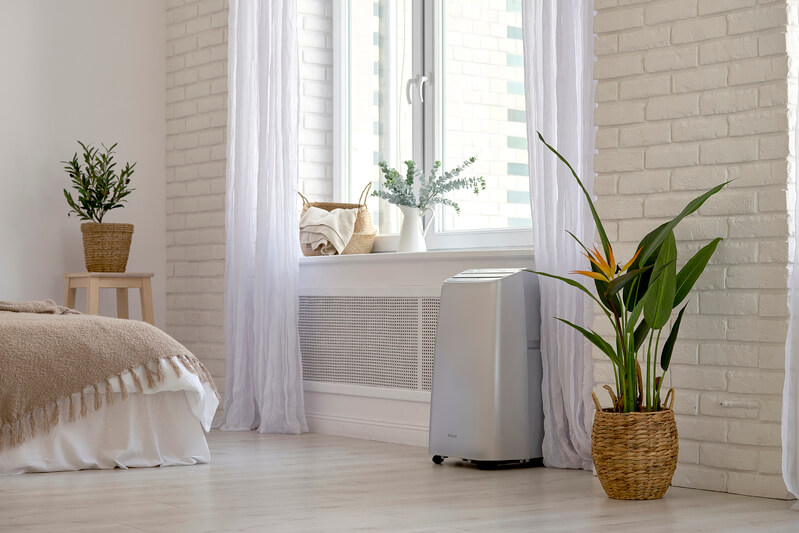 Porównując klimatyzator przenośny do lodówki, można zauważyć analogię – w lodówce ciepło jest odprowadzane przez kratkę, a w klimatyzatorze przez rurę wyrzutową.
Nie istnieje klimatyzator do mieszkania bez rury – takie urządzenie to klimator, który chłodzi za pomocą wody i jest niemal nieskuteczny.
Przenośny klimatyzator może być z powodzeniem stosowany jako klimatyzator do mieszkania lub do domu, jeśli nie chcemy lub nie możemy sobie pozwolić na założenie klimatyzacji ściennej.
⏵ Zobacz Ranking klimatyzatorów przenośnych 2021
2.1 Klimatyzator przenośny – montaż
Montaż monobloku możesz wykonać samodzielne na dwa sposoby:
wywiercając otwór w ścianie,

umieszczając rurę w uchylonym oknie lub drzwiach balkonowych.
Wywiercanie otworu nie sprawdzi się w przypadku, gdy chcemy zamontować klimatyzator do mieszkania, ponieważ jest to również ingerencja w strukturę budynku i wymaga uzyskania zgody.
Jeśli jednak uda się ją uzyskać, ten sposób pozwoli zachować estetykę wnętrza przez ukrycie rury wyrzutowej.
Wyprowadzenie rury przez uszczelkę w oknie lub drzwiach balkonowych jest najszybszym sposobem, ale przy tym najmniej estetycznym.
2.2 Klimatyzator przenośny – zalety
Właściwie jedyne co musisz zrobić, to kupić urządzenie i zastosować się do instrukcji montażu.
Nie musisz uzyskiwać zgód, czekać na ekipę montażową ani ponosić z tego tytułu dodatkowych kosztów.
Podłączasz urządzenie do gniazdka elektrycznego i cieszysz się chłodem.
Klimatyzator przenośny, jak sama nazwa wskazuje, możesz przemieszczać z pomieszczenia do pomieszczenia w zależności od aktualnych potrzeb. Ułatwiają to kółka, w które jest wyposażony każdy przenośny klimatyzator do mieszkania.
Wielofunkcyjność niektórych modeli
Nowoczesny przenośny klimatyzator do mieszkania łączy w sobie klika funkcji, dlatego nie musisz chować go do pudełka wraz z zakończeniem sezonu letniego. Zimą możesz go wykorzystać do ogrzewania, a przez cały rok do osuszania i wentylowania powietrza.
2.3 Klimatyzator przenośny – wady
Wpływ na estetykę pomieszczenia
Rura wyrzutowa, czy to umieszczona w oknie, czy w wywierconym otworze w ścianie, może być elementem, który rzutuje na wygląd pomieszczenia.
Ze względu na to, że wszystkie elementy klimatyzatora przenośnego znajdują się w jednej obudowie, wydawane przez niego dźwięki mogą być uciążliwe.
Zwróć uwagę, czy dany model posiada tryb nocny (sleep), który umożliwi cichszą pracę klimatyzatora w trakcie snu domowników.
Porównując klimatyzator przenośny do stacjonarnego, w oczy rzuca się mniejsza wydajność tego pierwszego. Jeśli jednak masz małe mieszkanie lub chcesz ochłodzić niewielki pokój w domu – taka wada może nie być dla Ciebie istotna.
Sprawdź poniżej, jak dobrać klimatyzator do metrażu domu lub mieszkania.
3. Jak dobrać klimatyzator do domu i mieszkania pod względem metrażu
Przyjmuje się, że schłodzenie 1 m³ powietrza wymaga około 0,03 kW mocy chłodzącej.
Jeżeli np. chcesz kupić klimatyzator do mieszkania o powierzchni 40 m² i wysokości standardowej 2,7 metra, posłuż się wzorem: 40 x 2,7 x 0,03 = 3,24 kW.
Podany wynik oznacza, jakiej mocy potrzebujesz, by skutecznie schłodzić to pomieszczenie.
Jest również kilka czynników, które powodują, że ten wynik trzeba zwiększyć o ok. 30%.
Jest tak m.in. w przypadku pomieszczeń:
zlokalizowanych na poddaszu,
z oknami od strony południowej lub zachodniej,
słabo izolowanych termicznie.
Dobranie właściwej mocy klimatyzatora do mieszkania i domu jest ważne nie tylko ze względu na, gwarancję optymalnego chłodzenia.
Inwestycja w drogi klimatyzator o większej mocy niż tego potrzebujesz sprawi, że po prostu przepłacisz, z kolei za mała moc to bezużyteczne urządzenie.
Potrzebujesz więcej wskazówek? Sprawdź nasz ranking klimatyzatorów przenośnych, w którym podpowiemy Ci, jaki klimatyzator przenośny wybrać.
Źródła:





(
2
oceniło, ocena:
3,00
na 5)

Loading...
Ranking 15 klimatyzatorów przenośnych